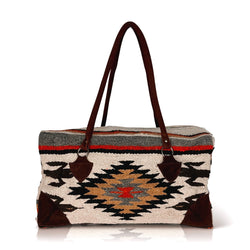 Adventurer Boho Bag - Apache
Our Adventurer Boho Bag is a textured bag that reminds us of adventurous gyspy style travels around the globe. It is the perfect lightweight boho bag and will hold all of your essentials. The fabric is super sturdy and can be easily washed at home. The silver zip opens up to black lining with an inner pocket for some smaller special items. It has a Good Tidings logo on the inside. You will grab this Boho Bag on your travels, all of the time!
Designed in USA
Made in India
Weight: 3 lbs
Polyester / Acrylic
Apx. 18" x 8" x 8" with 13" suede strap drop / 46 cm by 20 cm by 30 cm with 33 cm strap drop.