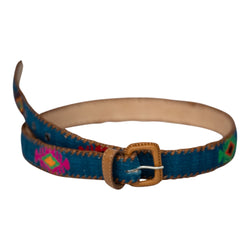 San Miguel De Allende Belt - Ocean Blue
Our handmade belts showcase a colorful, Guatemalan handwoven inlay complemented by full-grain, durable leather and finished with a brass harness buckle.
Important:
Order two sizes than pants size
Details:
In multi.
Leather/wool.
1⅛" wide.
Sizes 30-42
Handmade in San Miguel de Allende, Mexico.
Imported.